My Pocket Filofax consists of three main tabbed sections: Diary, Me and Notes. This was what I started out with and I liked the setup, but in the 'Me' and 'Notes' sections I kept forgetting where I'd written things that were specific to a particular part of my life.
Due to using Moleskine pages in my Filofax, there would only be room for top tabs, of which I already have three, and I didn't want my sub-sections to get in the way of the main tabbed sections. So, inspired by
DIYfish's Index Page Tutorial
I considered adding colour to the edge of the pages somehow.
Last week I purchased this
Solid Colour Masking Tape Set
from Amazon.co.uk, not for this purpose initially, but after colouring in several sheets of white labels I realised the solution had been right in front of me all along.
In this little tin of sticky delights, you get 27 sheets of different coloured masking tape stickers. Don't be fooled, because when I ordered them I thought the sheets would be photo print size (4x6in), but they are actually credit card sized. This isn't a bad thing, it means they're portable if you decorate on the go, and the sticker sizes are very pocket size-friendly.
This picture below is the Paper version, but it shows you the layout of stickers on each sheet (2 narrow strips, 4 wide strips and 4 sticky dots).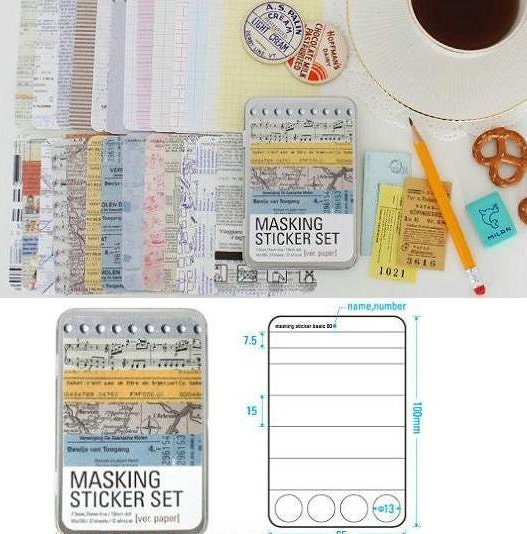 I started by creating a contents legend on the back of the divider for my 'Me' section, using the sticky dots from the Masking Tape set. They are:
Red - Shopping (wishlist, list of Pandora charms I would like)
Orange - WWW (web links, etc.)
Yellow - Contacts (what it says on the tin)
Light Green - Finance (bill dates, annual renewal reminders, monthly budgeting)
Dark Green - Media (films to watch, books to read)
Teal - Music (to listen to/buy)
Light Blue - Food (meal planning, favourite family meals)
Dark Blue - Gifts (ideas for gifts for people)
Dark Purple - Blog
(post ideas)
Lilac - Home (cleaning schedule)
Pink - Fitness (Fitness Evolved)
I've also added 3 more sticky dots since I took this photo, Black,
Grey
and
Brown
, in case there are other sections I feel I need to add in the future.

I find that I really respond to colour and remember things better if I can assign colour to it, which makes colour coding a great way to identify different sections in my Filofax. Without these sections, you can imagine the jumbled mess of shopping lists, finances and to-do's.
So here are the pictures of each of my sections, you can see the sticky dots on the edge of the page.
Sections 1-3
I cut down some personal size address pages I had and rounded off the corners, so they would fit with my Moleskine size pages, and repunched the holes.
Sections 4 & 5
I trimmed down my personal size Organised Mum inserts that I used for budgeting and finance. I love these inserts, so easy to use.
Sections 5-8
I've added some coloured pocket-size paper in the sections that co-ordinate with the colour of the paper, just for important notes. Again more trimmed down Organised Mum inserts for my meal planning.
Sections 10 & 11
The two last pictures show the co-ordinating paper and a close-up of the sticky dots being applied to the pages. It's that simple, it took less than a minute!
Overall a success, I absolutely love this setup and can't wait to fill in all my info!