This week the weather has been really beautiful! Again I'm going to show you both my planner week and my journal week. We've been out and about a lot, having 2 days off at the beginning of the week so I've done a lot more to write about.
It's funny though, since I started a journal I've been doing more with my life because I realised how boring and uneventful it was before. We've been out with friends a lot more, that may just be because of the nice weather. Not sure what the reason is, but it's nice to go out.
My Planner Week
This week I decided to use some leftover scrapbooking paper to decorate my pages. I like using washi tape, but I only have about five or six rolls and have already done them all to death!
I chose a few co-ordinating papers from the same collection and used a patterned dot one for the fake washi at the top of the page. All I did was just cut a strip the right width, stuck double-sided tape on the back, and fake washi was made.
With the other sheet of co-ordinating papers, I cut out some flowers and leaves, and placed them on the page to add a bit more interest.
I've also used a green pen which matches with the green in the paper - I write all my very important things to remember in a coloured pen so they're easier to spot on the page.
You will also see that I've changed my pen setup - I was using a black Uniball Fine Eye pen in my pen loop, but for some reason after a lot of use these go very thick and gloopy. I've slotted in a black Stabilo pen and a co-ordinating one for my weekly important notes, and they fit nicely in the pen loop together as they are very thin pens.
My Journal Week
Balloons!! I used the same technique with scrapbooking paper as I used on my weekly pages, just with a different collection. I loved this layout so much I've done a similar version for next week's planner pages. Here they are together, my personal at the front and the A5 underneath it:
I love this paper collection, it's called What's Up by Basic Grey. I also really like this technique of using scrapbooking paper to decorate pages - you get a really unified look and all of the colours match.
No photographs this week yet, I do have some in mind that I want to add but I am going to have to order them to be printed somewhere. Our printer at home is quite good for pictures, but my boyfriend is currently studying for a course and printer ink is not cheap. I will add a journaling card or something to it later on though.
I always try and write a wish list for my next pay day - sometimes this is a good idea, so I know to keep some money aside for me, sometimes it's a bad idea as the list is very long! But on next month's list I'm going to write 'rest of the Stabilo colour pens'! I bought a pack of 12 different coloured ones, the basics like all of the primary and tertiary colours, black, and brown. And then I found this picture! Lilac, burgundy, peach, violet, navy, aqua, turquoise, two more greens, a lighter brown and two greys! I must have these to finish off my collection. They're really nice to write with.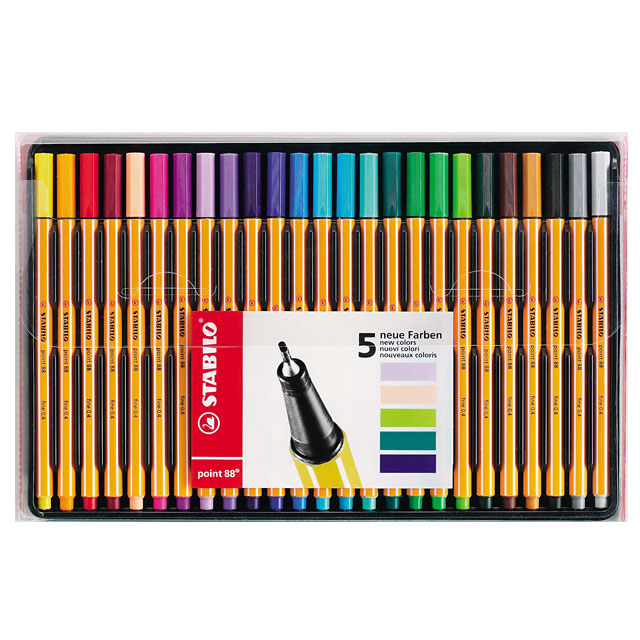 That's all from me today peeps, I'm going to sit on my sofa and pretend I'm in a garden... we don't have one :,(